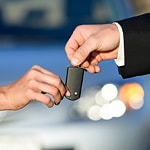 Here at Ditschman/Flemington Lincoln, we understand that circumstances in your life can change. One common situation many of our customers face is the desire to lower their car payments. This can be done through refinancing the loan or trading in the vehicle for a different one. If you're facing this dilemma, you may wonder which is best. The answer differs for everyone, but here's an overview of refinancing versus trading in your car.
Do you like your vehicle, but you aren't too thrilled with your loan terms? It's possible you could refinance to get a lower interest rate, especially if your credit rating has improved. Another possibility is to get a longer loan term, resulting in lower monthly payments.
On the other hand, if you currently have a vehicle that is simply more expensive than your budget can comfortably withstand, your best bet may be to trade it in on a more affordable model in order to obtain manageable payments.